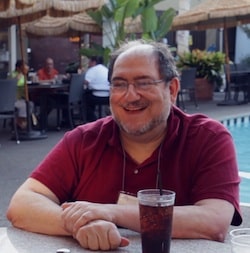 Chemistry
Martin Edelstein, Ph.D.
Dr. Edelstein is a Non-executive board member for Agua Via Ltd., serving as science advisor to the board. He is a founding member and CTO of Covalent Industrial Technologies, LLC which develops bottom-up nanotechnology-based products for environmental and medical markets. Prior to founding Covalent Martin was Director of Analytical Development at Athena Neurosciences and had a lengthy career in drug development.
Martin obtained his Ph.D. at Texas A&M University in the laboratories of F.A. Cotton and E.E. Hazen Jr in the design and synthesis of protein super secondary structures. He then had a postdoctoral fellowship at Baylor College of Medicine in the laboratory of Antonio Gotto developing isotopic syntheses and performing structural NMR on labeled, synthetic apolipoproteins. Martin has experience in organic, inorganic, analytical and biophysical chemistry. When he was a starving postdoctoral fellow he developed a software consulting business which focused on real-time control of instrumentation and analysis of analytical data. In his industrial career, he participated in the development phase of moving products to the market and participated in international regulatory filings.
Seven key patents and several papers resulted from early work at Covalent on organic single atomic layer membranes. Organic chemistry providing the means to implement a bottom-up nanotechnology building block strategy. He is Principle Investigator on a DOE small business grant obtained in 2015 to initiate novel manufacturing methods for the production of single atomic layer membranes.