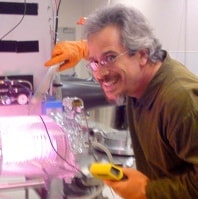 Nanotechnology
Rob Meagley, Ph.D.
Dr. Meagley is presently CEO, CTO and resident "Mad Scientist" at ONE Nanotechnologies, a company founded to invent, develop and market photonic nanodevices and device arrays for biomarker characterization and related technology.
Prior to forming ONE Nanotechnologies and following post-doctoral research at UC-Berkeley and Cornell, Rob was Principle Investigator, Senior Staff Scientist, and the Molecules for Advanced Patterning Program Manager for Intel. In 2004 he was named Researcher-In Residence for a group he created at Lawrence Berkeley National Labs to discover, develop and commercialize advanced lithography materials.
With over 38 papers, 41 patents, and numerous awards to his name, Rob is an expert in the design and synthesis of small molecules and complex molecular systems. In addition to managing several complex, interdisciplinary teams and research programs, he has also lectured extensively on materials science chemistry and nanotechnology, and provides consulting services to the nanotechnology, MEMS and biotechnology communities.