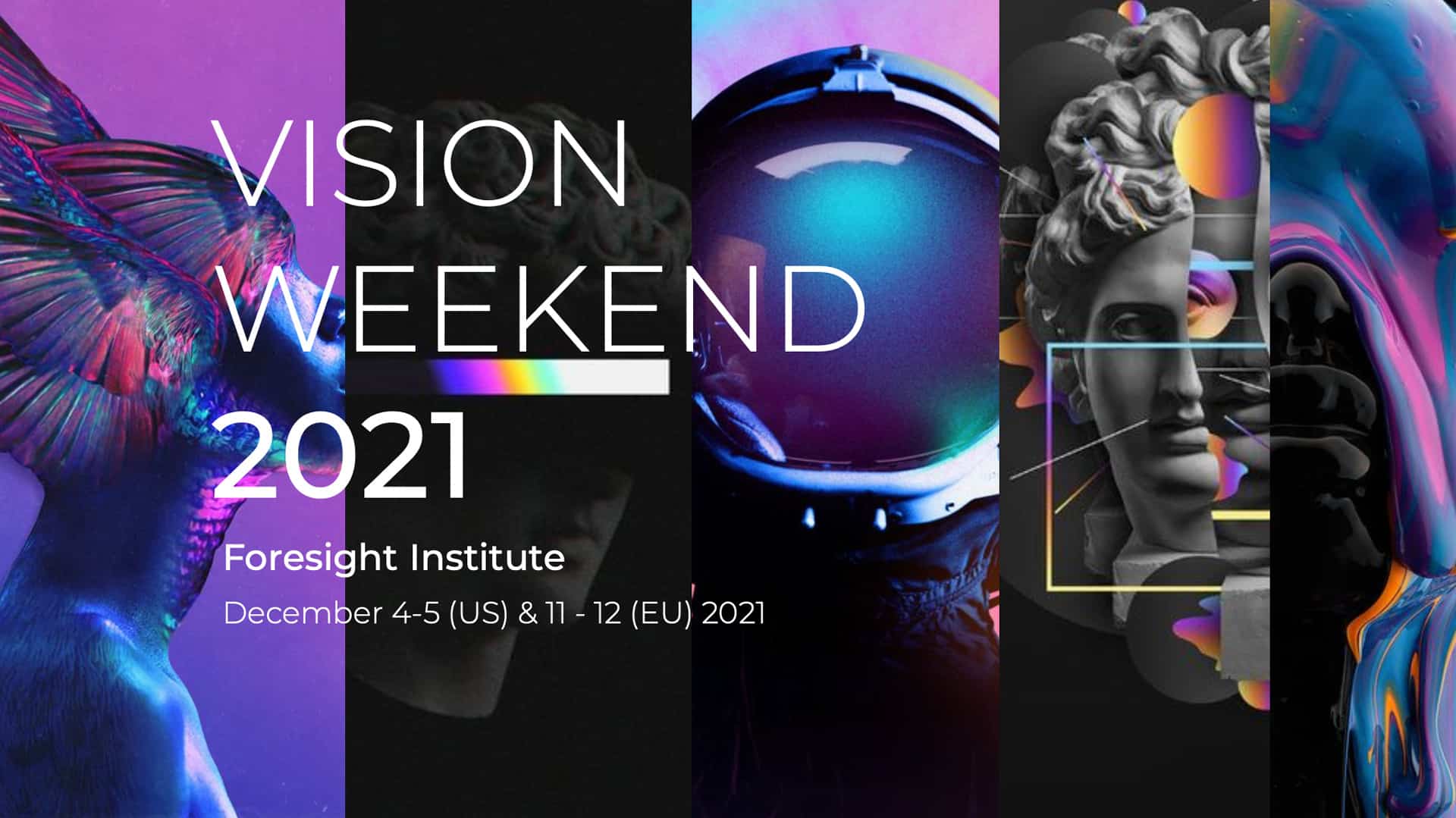 PROGRAM
Click through slideshow below for more on vision weekend
Covid-19?
We ask you to present a negative test taken within the last 48 hours (also for vaccinated and recovered).

How to join?
You can purchase a US or France ticket to join in either location, including a 1 year membership that gives you access to our cyberspace layer. Your donation is tax-deductible and allows us to do the work we do. We are committed to supporting bright minds and have limited ability to offer subsidized tickets via the income-support application below. Granted applications will be notified on a rolling basis.
Would you like to sponsor? Contact us
CYBERSPACE: ALL YEAR
This year, a part of Vision Weekend is also moving to cyberspace. 
As an Associate, you can watch our US and France talks from cyberspace, and meet minds like yours from around the globe. Launching at Vision Weekend, and continuing throughout 2022, we invite you to join our cyberspace layer for virtual seminars, collaborations and community.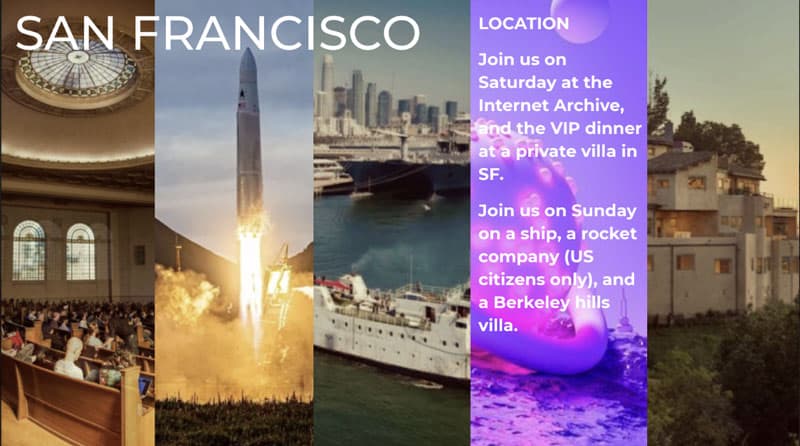 SAN FRANCISCO: DEC 4 & 5
As Associate, you can choose the daytime option to join us for Saturday's program at the Internet Archive in San Francisco and Sunday's afternoon sessions at the Bird's Nest Villa in the Berkeley Hills.
As Ally, you are additionally invited to join Saturday's VIP dinner at a private home in SF, and Sunday's small morning sessions on a ship, and rocket company around SF.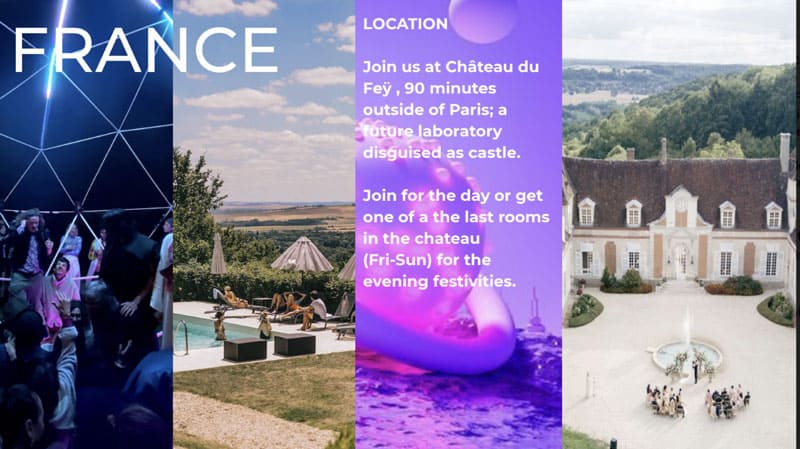 FRANCE: DEC 11 & 12
As
Associate
, you can choose to join our Saturday and Sunday daytime program at
Chateau du Feÿ, Villecien
, a laboratory for the future disguised as a stunning 17th century castle, 90 minutes outside of Paris.
As Ally, you are invited to stay two nights at the Chateau, from Friday to Sunday, to enjoy the evening celebrations and curated experiences.
In-person speakers in US and France include
Biotech & Health Extension: 
Reverse Aging and Improve Cognition
The Future of +++ aging hallmarks + artificial organs + thymus rejuvenation + aging clocks + gene therapy + plasma dilution + biostasis + diagnostics + senolytics + biohacking + escape velocity investing +++
Sonia Arrison
100 Plus Capital
Karl Pfleger
Agingbiotech.info
Martin Borch Jensen
Gordian Biotechnology
Jose Luis Ricon
Nintil
Greg Fahy
Intervene Immune
JJ, Ben-Joseph
Foresight Fellow
Dina Radenkovic
SALT
Dr. Emil Kendziorra
Tomorrow Biostasis
David Eagleman
Stanford University
Mary Lou Jepsen
Openwater

Laurence Ion
VitaDAO.com
Jean Hebert
Albert Einstein
School of Medicine
Alexander Fedintsev
Foresight Fellow
Michael Greve
Forever Healthy
Daniel Ives
Shift Biosciences
Maryna Polyakova
Foresight Fellow
Nora Khaldi
Nuritas
Nikolina Lauc
GlycanAge

Niklas Rindtorff
VitaDAO

Matthias Steger
Rejuveron Life Sciences
Molecular Machines: 
Better Control of Matter 
The Future of +++ synbio + DNA nanotechnology + self-assembly + computational modeling + molecular 3D printing + molecular pumps, gears, rotos + single-molecule mechanics + molecular manufacturing +++
Adam Marblestone
Schmidt Futures
Benjamin Reinhardt
PARPA
Yuanning Feng
Foresight Distinguished
Student Award
Yunyan Qiu
Foresight Fellow
Maxim Ziatdinov
Foresight Fellow

Yuxing Yao
California Institute of Technology
James Cooper
Foresight Fellow
Anne-Sophie Duwez
Foresight Feynman Prize
Dr. Larissa von Krbek
Foresight Fellow
Stefan Borsley
Foresight Fellow
Prof. Lee Cronin
 Honorary Fellow
Dionis Minev
Foresight Fellow
Intelligent Cooperation:
Secure Human AI Cooperation
The Future of +++ crypto renaissance + DeSci + zkp's + NFTs + interchain communication + encryption + structured transparency + computer security + AI DAOs + agoric computing + cognitive AI  +++
Primavera de Filippi
Coala
Silke Elrifai
Gnosis
Martin Lundfall
Ethereum Foundation
Ben Garfinkel
Future of Humanity Insititute
Masha McConaghy
Ocean Protocol
Tom van Cutsem
Nokia

Philipp Koellinger
DeSci Labs
Existential Hope: 
Neuro, Energy, Space Science 2.0
The Future of +++ fusion + nuclear + satellites + rockets + brain computer interfaces + whole brain emulations + quantum computing + prediction markets + scientific institutions + charter cities + Xhope +++
Allison Duettmann
Foresight Institute
Dr Jan Goetz
IQM
Samo Burja
Bismarck Analysis
Anders Sandberg
Future of Humanity Institute
Aleksandra Smilek
Auditoire
Trent McConaghy
Ocean Protocol
Stuart Armstrong
Future of Humanity Institute
More speakers to be announced!
PROGRAM
Keynotes on breakthrough visions to advance high impact technologies followed by in-depth breakout discussion will focus on four different innovation areas:
FORESIGHT INSTITUTE
Our community is where flourishing futures are born. For the last 35 years, Foresight, based in California, has been gathering and supporting those shaping the edge of science and tech innovation. Molecular nanotechnology, longevity, space development, neurotechnology, or cryptocommerce; name it, we were there for it. Join us as we accelerate progress across disciplines and across the globe.