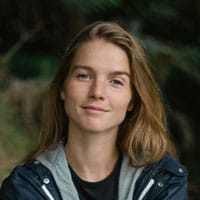 CHIEF SCIENCE COMMUNICATOR
Niamh Peren is a change maker. Best known for founding the environmental movement Tino Pai Aotearoa/ Thumbs Up New Zealand, Peren successfully led her government petition through the corridors of power toward legislation. As an environmental advocate, Peren's petition paves the framework for a circular economy and designs waste out of the system. She united 47/67 Mayors, who pledged allegiance to her movement, as well as tens of thousands of signatories, and garnered plenty of media attention. Now, a New Waste Strategy is set to be legislated by the House of Representatives in New Zealand's Parliament later this year. 
 
As the winner of the President's Scholarship, and the John L. Tishman Scholarship for exemplary commitment to sustainability, Peren currently resides in NYC and is graduated in May 2022 with a Master of Science in Strategic Design and Management at The New School, Parsons School of Design; where she also works as an Adjunct Professor.