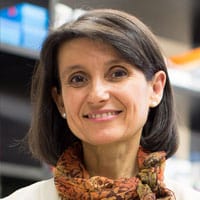 Dr. Ana Maria Cuervo obtained her M.D. and Ph.D. in Biochemistry and Molecular biology from the University of Valencia (Spain) in 1990 and 1994, respectively, and received postdoctoral training at Tufts University in Boston, MA. In 2002, she started her laboratory at Albert Einstein College of Medicine, where she is now co-director of the Institute for Aging Research. She is a recognized leader in the field of protein degradation and the biology of aging. Her laboratory studies the role of protein degradation in aging and age-related disorders, with emphasis in neurodegeneration. Dr. Cuervo has been included in the Clarivate Analytics Highly Cited Researchers List (ranking of top 1% cited researchers) since 2018. She has been a member of the National Institute on Aging (NIA) Scientific Council, the National Institutes of Health (NIH) Council of Councils, the NIA Board of Scientific Counselors, and the Advisory Committee to the NIH Deputy Director. She is elected member of the Royal Academy of Medicine of the Valencia Community, the Spanish Royal Academy of Sciences, The Spanish Royal Academy of Pharmacy and the American Academy of Arts and Sciences. In 2019, she was elected to the National Academy of Sciences.
Cells count on surveillance systems to handle protein alterations and organelle damage. Malfunctioning of these systems occurs with age and is on the basis of different age-related diseases. We are interested in understanding the mechanisms and consequences of the age-dependent malfunctioning of autophagy, one of the components of the proteostasis network.
We have found that a selective form of autophagy, known as chaperone-mediated autophagy (CMA), is markedly reduced with age. CMA is active in most cell types in mammalians but its activity varies depending on cellular conditions. In recent years, the better molecular characterization of CMA and the development by our group of mouse models with selective blockage or activation of CMA has considerably advanced our understanding of the physiological role of this pathway.
In this talk, I will describe our recent findings on the molecular regulators of CMA, the novel physiological regulatory functions identified for this process, the consequences of the functional decline of this type of autophagy with age and some of our current efforts to enhance CMA activity in vivo in the context of different age-related diseases.