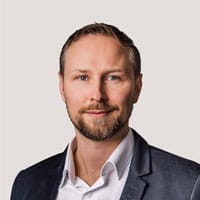 Collin Ewald was educated at Mathematisch-Naturwissenschaftliches Gymnasium (MNG) Basel, Switzerland. After completing his bachelor in molecular biology at the University of Basel, he joined the labs of Joy Alcedo and...
The extracellular matrix is incredibly complex and vital to understanding aging.  Collagen, a key component of the ECM, is the most abundant protein in the human body.  How is the extracellular matrix regulated and maintained, and what types of damage are inflicted upon it?
One form of damage is called crosslinking.  It's when the fabric of the ECM gets permanently connected in unexpected places through covalent bonds – the formation of glucosepane is one example.  Crosslinking creates stiffness in the ECM and prevents matrix metalloproteinases (MMP's) from correctly breaking down the ECM so it can be recycled.  This stiffness causes the overactivation of MMP's in the wrong locations and leads to fragmentation.  The combined fragmentation and stiffness leads to pathologies associated with aging.
The innate importance of ECM health does not seem to translate to the clinic – there is a therapeutic gap between the impact of ECM on age related disease and the number of clinical trials being carried out on ECM biology.  This is partially due to the complexity of human clinical trials.  Fortunately, the ECM in model organisms such as mice, worms, and flies can be studied to gain useful insights into how to regenerate and repair extracellular structures in humans.  Collin is using gene expression analysis to predict the existence of drugs that affect the ECM in worms and humans, and already has several leading candidates.