Autophagy and Neurodegeneration
The process of autophagy starts as phagophores engulf cytoplasmic content to form autophagosomes. These structures are trafficked to lysosomes, where the contents are broken down. Essentially, a package of detritus is filled with acid which breaks everything apart.
David's lab has been studying how autophagosomes are formed, looking at endosomes and DNMN2 protein interactions.
The compromise of autophagy contributes to neurodegeneration – diseases like Alzheimer's, Huntington's, Parkinson's, Prions, and Amyotrophic Lateral Sclerosis (ALS) are a product of autophagy errors. Aging is the most important risk factor for neurodegeneration. David's lab discovered that SORBS3 expression rose during aging, which impedes YAP/TAZ signaling and decreases autophagy.
Autophagy can be used as a therapeutic, and screens for mTOR independent autophagy inducers have been investigated. The most exciting hit has been the drug verapamil, a calcium channel blocker, but unfortunately it does not cross the blood brain barrier. Another promising drug is Felodipine, which induces autophagy in the brain of mice and improves pathology of Huntington's disease.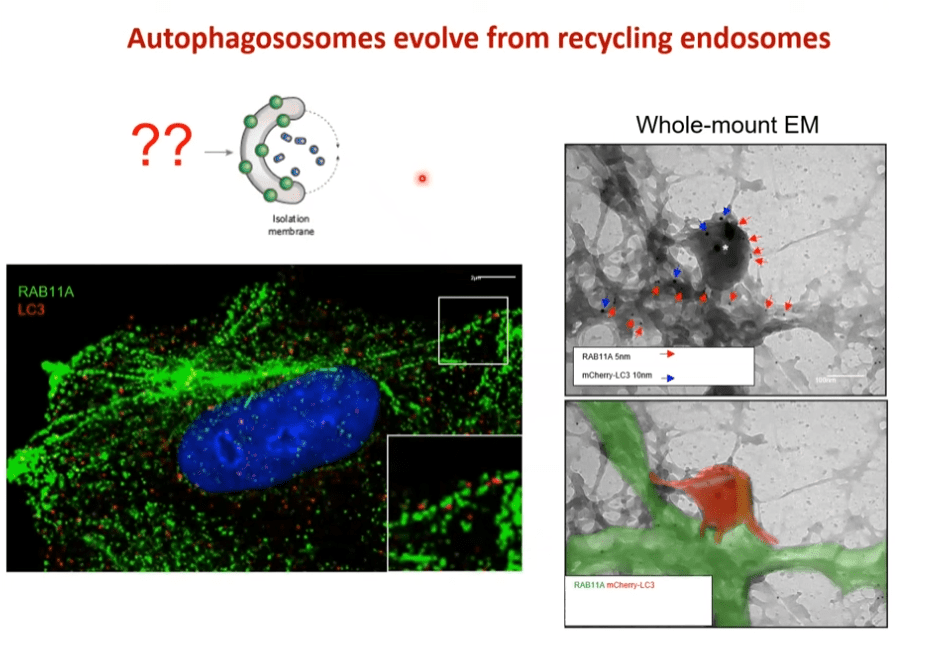 Recycling endosome (green) is a core platform on which autophagosomes form, marked by the LC3 protein (yellow/red)
Can we assess real protein turnover in elderly people?
At Washington University, there is a method being developed to measure autophagic flux using a pseudo-pulse chase with a stable isotope, measuring the CSF and doing some mathematical inferences to arrive at an answer.
Can we induce cells to secrete lipofuscin rather than attempting to degrade it inside the cell via autophagy?
David is confident it will work in neurons.
There is serious concern that the current fasting methods may not be inducing autophagy in people.
24 hours fasting for a mouse, which is necessary to induce autophagy in the brain, is 7 days fasting for a person.
We need more options for upregulation of autophagy in people.