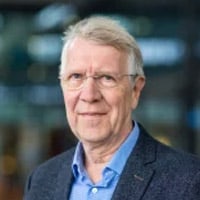 Dick Broer is a polymer chemist specialized in polymer structuring and self-organizing polymer networks. This entails the development of polymers with new functionalities and integrating them into devices to meet industrial and societal challenges in the fields of sustainable energy, water-management, healthcare & personal comfort. The research follows the complete chain of knowledge from molecule to device. i.e. from organic synthesis to prototype. Both top-down and bottom-up methods are employed for the preparation of hierarchically structured materials in the fields of Energy Materials, Stimuli-responsive Materials, and Nanostructured Materials.
In our work molecular motors are molecules that change conformation or orientation upon activation by an external trigger, usually light or electricity. Their activation energies enable reversible morphing or polarization, which preferably occurs in a continuous, oscillatory manner. By combining them with liquid crystals or liquid crystal polymer networks we amplify their modulations from molecular dimensions to effects that can be seen, can be felt or can perform mechanical actions of relevance for our macroscopic world. In the presentation we will discuss the mechanism and relevant parameters related to materials and trigger. We will place this in the perspective of their applications which can be information windows, haptic surfaces, pick-and-place elements in soft robotics, drugs administration or surface effects as lubrication and debris removal.
In short: faster, larger morphic amplitudes and larger forces
Response rates are usually around 0.1 to 1 Hz. This is related to the response speed of the motor molecules, but also to the visco-elastic properties of the polymer host. Many applications require response speeds that are one or two orders faster.
Deformation and force are related. Larger deformations are obtained with softer materials. But high modulus materials deliver larger force. Product of amplitude and force corresponds to the work that the system can perform. Most application require a larger work than we can deliver. We hope to break this paradox by focusing on volume effects such as deforming surfaces.