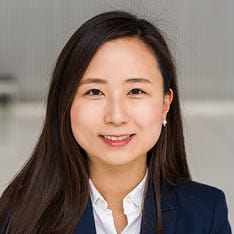 Grace was born and raised in South Korea where she attended POSTECH and received BS in Chemistry. She spent a year in UC Berkeley and worked in the laboratory of Prof. Jeffrey Long to perform research in metal-organic frameworks. Then she pursued PhD in Chemistry at MIT...
Harnessing Photoinduced Phase Transition of Organic Materials for Energy Storage
The Light-Responsive Materials Research Group engages with light sensitive molecules like azobenzene to create photon and thermal energy storage, optical dilation of nanopores, photo-control of biomaterial assembly, and photo-controlled recycling of catalysts. There is an urgent need for phase change material research – indoor air pollution from crude fuels causes 3.8 million premature deaths per year, and emission-free fuels can change that.
Phase transition of organic materials can be achieved using a molecule such as azobenzene. Grace has developed a method to store heat energy using photo-controlled state changes by taking advantage of heat capacity between two forms of azobenzene isomers. However, storage time is limited and crystallization of the material is a problem.
Arylazopyrazoles act in a similar fashion and have much better stability, some of them up to 46 years. Adding alkyl chains prevents crystallization of the material. The new properties of these materials allows it to perform heat storage even at -30 C temperatures, which has applications for deicing. The drawback of this molecule is that it requires UV light for initial activation, which is a small portion of incoming light. Changing the functional groups on the phenol rings allows different wavelengths of light to be used for the initial activation step.
Currently there is incomplete photochemical reversion of arylazopyrazoles. Redox reactions could be used to improve the activation energy profiles. Electrochemistry is used on molecular derivatives sandwiched between glass plates to improve photochemical reversion.
Hydrazones and hydrazone derivatives are another potential photosenstive motif that Grace is investigating. They have comparable energy storage to azoarenes and can be modified to overcome many of the challenges present in other molecules.
These molecules only allow short light penetration depths, in the micrometer range, make it difficult to use these molecules at scale.
Photo-switching and phase transition happens slowly. It takes hours under normal sunlight.