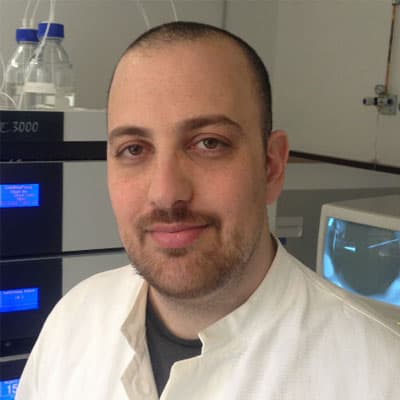 Dr. Shahaf Peleg received his PhD from the University of Göttingen, Germany in 2010 where he was part of the international Max Planck Research School (IMPRS) of Neuroscience. He later did his postdoctoral training at the University of Munich where he focused on metabolism – epigenetics connectivity during early aging. Since 2018, his laboratory at the FBN is working mainly on flies and Giant mice. He is seeking to better understand molecular changes that are associated with the progression of aging. Recently, he is interested in novel approaches to extend healthy life span, which center around the concept of energy replacement. To this end, he uses recent technology that enables metazoans to harness the energy of light and translate it to chemical energy in their mitochondria. He received the Schilling prize at 2011.
Metabolism uses carbon sources in the form of metabolites to fuel mitochondrial energy
production. Mitochondria are the cellular powerhouses and much like pollution from coal burning
power plants, produce toxic metabolic intermediates and reactive oxygen species while
generating energy. Subsequently, metabolic enzymes and mitochondria accumulate damage
and become dysfunctional with age. In organisms from C. elegans to humans, metabolism
declines with age. Rejuvenating energy production has therapeutic promise to promote
longevity however, translating model organism findings has been limiting.
We propose to transform how humans transduce energy. We will convert the cellular coal
burning power plant to solar power and provide an energy transduction pathway that bypasses
age-damaged metabolic pathways and prevents the formation of reactive intermediates.
Rejuvenating mitochondrial function using a light-activated tool called mitochondria-ON is
sufficient to increase adult C. elegans lifespan (PMID:36873708). We will translate this leap in
aging research to humans by constructing a new version of this validated approach that is
amendable to the complexities of human tissue.
Can we harness the energy of light to treat age-associated vision loss? Can we eventually upgrade mtON to function in inner organs?