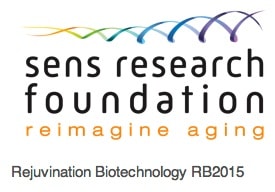 August 19 – 21 · Hyatt Regency San Francisco Airport in Burlingame CA
www.sens.org/rb2015
To Foresight friends,
We're pleased to announce that the SENS Research Foundation is once again hosting its Rejuvenation Biotechnology Conference here in Silicon Valley. The Rejuvenation Biotechnology Conference is designed to bring together a global community to transform the treatment of age-related disease, and they would like all of us to be there.
Last year's conference was truly one of the most informative and engaging longevity research events ever held.
The Rejuvenation Biotechnology Conference provides ways to:
Increase your knowledge about the key components of the new Rejuvenation Biotechnology Industry – the science, the regulatory issues, the financial and economic challenges
Discover new opportunities in research in Gene Therapy, Stem Cells, and Tissue Engineering
Learn the latest advances in Cancer, Alzheimer's Disease, and Cardiovascular Research
Develop new collaborations with industry-leading researchers
This is a ground-breaking meeting featuring over 50 amazing speakers including Judith Campisi (Buck Institute for Aging Research), Russ Altman (Stanford Medical School), Anthony Atala (Wake Forest Institute for Regenerative Medicine), Mahendra Rao (New York Stem Cell Foundation), Jeanne Loring (Scripps Research Institute), Chas Bountra (University of Oxford) plus speakers from leading Biotech Companies Sanofi, Kite Pharma, BlueBird Bio, Sangamo BioScience, and Capricor Therapeutics.
To round out the event, there's a keynote by Frances Colon, Deputy Science and Technology Adviser to the Secretary of State, and even-returning again this year—comedian Hal Sparks.
We wouldn't miss it, so please join us August 19 – 21 at the Hyatt Regency San Francisco Airport in Burlingame CA. Register before July 15 to take advantage of early bird pricing at www.sens.org/rb2015.
Hope to see you there!
—FORESIGHT INSTITUTE TEAM