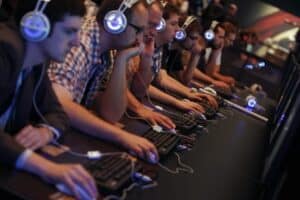 Speaking of big computation, cyberspace isn't yet as potent as Neal Stephenson portrayed in Snow Crash and subsequent books, but it's getting there. A new article in the Wall Street Journal online titled Can World of Warcraft Game Skills Help Land a Job? states that some job seekers are adding gaming skills to their resumes to indicate their ability to work productively in large, remote teams:
Gamers' ability to accomplish complex tasks across virtual teams could be seen as a plus for some companies.
…
"This capability to engage in strategy-building, team-building, knowledge-sharing and problem-solving remotely is really important," said, Ms. LeGoues, currently vice president of transformation at the YAI Network of nonprofits.
The topic was also featured on the Harvard Business Review blog, and was picked up at Yahoo Finance (video and article here), noting that skill-based hobbies such as chess and even golf have been touted in LinkedIn profiles for some time:
…Still, excluding people who work at video game companies, less than 2,000 have mentioned World of Warcraft on their resumes on LinkedIn. More than 250,000 people list chess on their LinkedIn profile, mostly in the fields of IT, computer software and finance. That beats the 116,000 who list golfing skills, mainly in the fields of finance, real estate and marketing and advertising. Poker is less common, listed on only 43,000 profiles, and about half are people who work in the gaming industry. The rest, about 22,000, are concentrated in IT, advertising, and marketing and finance.

MIT researcher Michael Schrage says a whole bunch of modern, digital pursuits such as fantasy baseball and Minecraft should eventually become appealing to hiring companies, since they signify modern skills.
…
Feeling skeptical? How about flight simulators, which have been used for decades
to help train pilots but have only recently achieved high enough levels of computational sophistication to effectively prepare pilots for dangerous flight conditions that were previously relegated to 'on the job training'.

A very mainstream news broadcast from King5.com shows a simulator at Seatac airport and describes the real-life skills gained from incredibly realistic virtual flight experiences:
It's not so much the flying, said [Director of Flight Training Capt. Douglas] Burton. He says what pilot training is really focused on is helping pilots make better decisions, especially during difficult situations involving bad weather, mechanical troubles or a combination of the two.

They get lost in the scenario. said Burton.

The reality of the simulation helps draw the pilots in, to work through those decisions while safely on the ground and get ready for the time if they ever confront that type of reality in the air.
Flight simulation may feel sufficiently focused and applied to be a common-sense use of virtual reality, but it's a short walk over to the large-scale cooperative, distributed, and remote teamwork that is becoming increasingly important in a more high-tech, networked, online world.
If social-based online games do indeed exercise skill sets related to 'virtual cooperation' and the ability to function and interact effectively in virtual environments, it may just be a matter of time before high-tech employers start seeking the information as an initial indicator of aptitude in these areas.
-Posted by Stephanie C