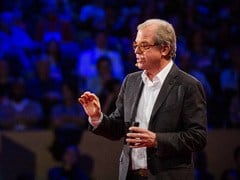 Nicholas Negroponte, founder of the MIT media lab and the One Laptop Per Child program, gave a TED talk in March 2014 titled A 30-Year History of the Future. Click to access the talk or the TEDBlog article discussing the talk.
Negroponte highlights some cutting-edge technological developments of the past that had been openly scorned by nay-sayers, including early touch screens and the prediction that books and newspapers would be widely accessed via the internet.
Negroponte also describes some unexpected and inspiring results of giving tablets to children, with no training or instructions provided.
Of course hindsight is always 20/20, but some of the nay-sayers Negroponte encountered may have been viewing computation as competitive with the human experience, while in fact history is showing that, in many cases, computation is supporting and enhancing the human experience.