Vision Weekend Countdown
TOWARD FUTURES OF EXISTENTIAL HOPE
Envisioning a Grand Future
Saturday, Dec 1, 9 am – 6 pm @The Laundry, SF
Come prepared, pick the technology track you'd like to steer and join intimate strategy groups to advance your track toward grand futures. Tracks include AI, cyberspace, blockchains, health technologies, bio & nanotechnologies, neurotechnologies, and space technologies – all chaired by technology experts (see speaker section below). Each technology track envisions two different scenarios – Dystopia and Utopia  – to develop a 30-year technology strategy.
First, you'll envision a dystopian, and a utopian scenario for your technology track, including effects on society, politics, economics, and ecology.
Armed with the dystopian and utopian corner scenarios, you'll generate an Existential Hope strategy, that navigates away from dystopia toward utopia.
To turn the Existential Hope scenario into a realistic future strategy, you'll answer
Action Plan: What is your proposal to steer your technology track toward Existential Hope? Who needs to be engaged and how? What milestones, costs, and bottlenecks may we expect?

Betting on Goals: What desirable goals may we achieve in the next year, 5, 15, 30 years?

Crucial Considerations: Why is this strategy desirable?  What agreements/ disagreements and controversies exist in your group? What black swans may influence your scenarios?
Yes, we have a lot on our plate! Check out the slides below for a sneak peek of what each technology track will create on Saturday. Don't worry, each step has as much guidance as you need and your track chairs are there to steer the ship – if you let them!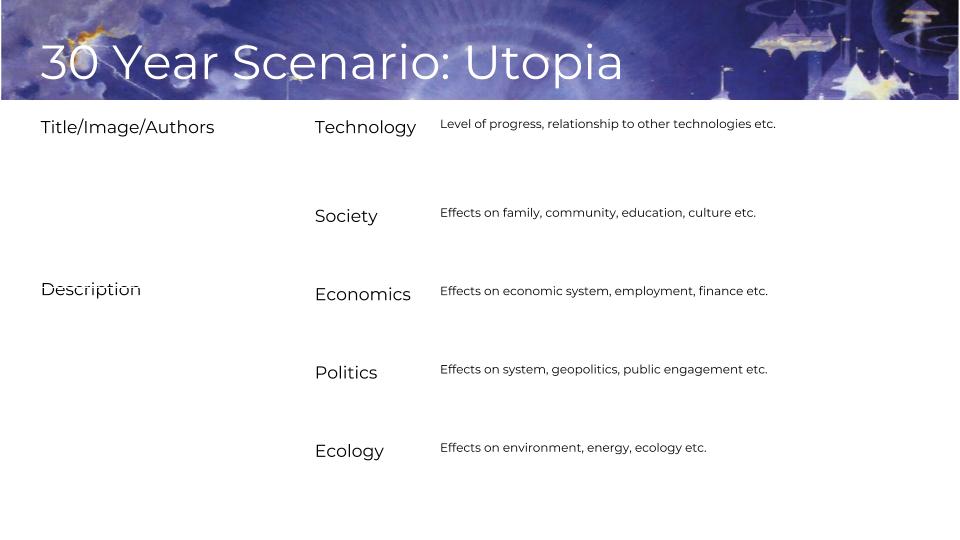 From Vision to Reality
Sunday, Dec 2, 9 am – 6 pm @The Internet Archive, SF
Saturday is filled to the brim with technology tracks: AI, cyberspace, blockchains, bio & nanotechnologies, neurotech, health technologies, and spacetechnologies – you won't be able to catch them all in one day. That's what Sunday is for: We'll unite as a big group to mix all technology tracks together! 
First, track chairs will present the Existential Hope strategies for their technology tracks. We'll allow ample time for those future strategies to be challenged by synthesists, moderator, and audience.
By doing this for all technology tracks we get a grand picture of the role of different technologies in the next 30-years. Finally, we'll ask how different technology strategies contradict, weaken, or accelerate each other. As one group, we will revisit Saturday's questions:
Action Plan: How do other tracks influence your action recommendations? Who to engage? Timeline, milestones, and bottlenecks?

Betting on Goals: Do other tracks influence your technology goals for 1, 5, 15 years? The steps we ought to take moving forward? 

Crucial Considerations: Do other tracks challenge the consistency of your scenario? Do other tracks enhance or weaken your technology strategy?  Do other tracks strengthen the agreements/

disagreements, and controversies in your group? Do other tracks have black swans that may affect yours?
Discovering the main interdependencies between the tracks will allow us to update the generated strategies for each technology track (see example below). We'll close with strategies that are beneficial across a variety of scenarios and promising avenues to align forces – until we regather in 2020 to compare progress?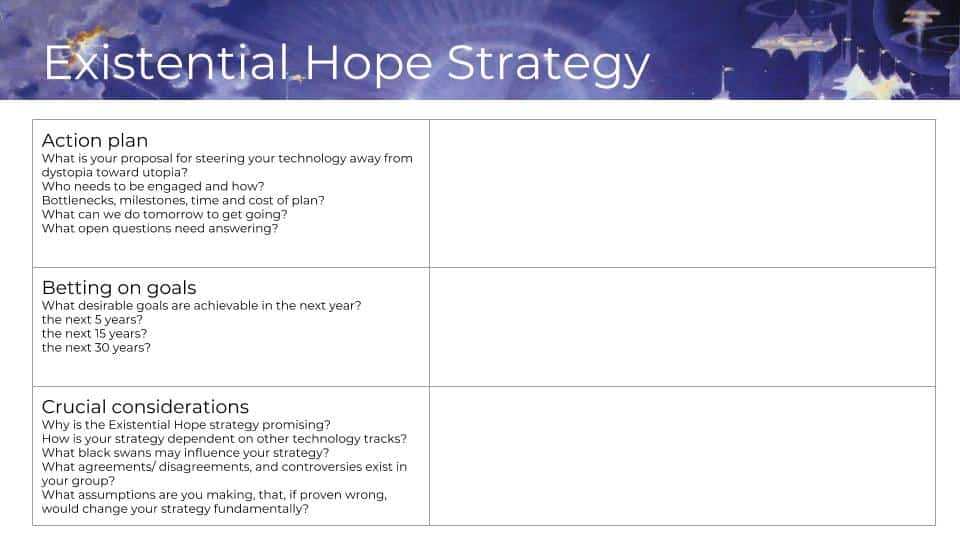 Strategists & Synthesists
In addition to track chairs, you'll have access to a number of synthesists who will float among the groups, uncover connections among the different technologies, and point to risks, challenges, and promises of the proposed technology goals. Please meet your track's strategists and synthesists below, including their bios.
AI Track
Peter leads the Partnership's research practice on topics associated with PAI's mission, including on best practices for the ethics, safety, fairness, inclusiveness, trust, and robustness for AI research, applications, and services. Prior to joining PAI, Peter was Chief Computer Scientist for the Electronic Frontier Foundation.
Jessica Cussins is an AI Policy Specialist at the Future of Life Institute and a Research Fellow at the UC Berkeley Center for Long-Term Cybersecurity. She works on the social, policy, and security implications of artificial intelligence. She has written more than 100 articles and blogs on the impacts of consequential emerging technologies in publications including CNBC, the Los Angeles Times, and The Huffington Post.
For pioneering contributions to machine learning of the cognitive relationships between different languages, De Kai is a Founding Fellow of the Association for Computational Linguistics, and is a Distinguished Research Scholar at UC Berkeley's International Computer Science Institute. At HKUST, he developed foundations of modern statistical machine translation technology, with broad applications in computer music and computational musicology as well as human language processing. 
Samo Burja is a sociologist and the founder of Bismarck Analysis, a firm that analyzes institutions, from governments to companies. His research work focuses on the causes of societal decay and flourishing. He writes on history, epistemology and strategy.
Brewster is a computer engineer, Internet entrepreneur, internet activist, advocate of universal access to all knowledge, and digital librarian. He founded the Internet Archive and Alexa. In 2012 he was inducted into the Internet Hall of Fame.
Danny O'Brien is the international director of the EFF. He fought against repressive anti-encryption law, and helped make the UK Parliament more transparent with FaxYourMP. He is also the co-founder of the Open Rights Group, Britain's own digital civil liberties organization.
John Gilmore is an entrepreneur and civil libertarian. He was an early employee of Sun Microsystems, early open source author, and co-created Cygnus Solutions, the Electronic Frontier Foundation, the Cypherpunks, the DES Cracker, and the Internet's "alt" newsgroups. His advocacy on encryption policy aims to improve public understanding of this fundamental technology for privacy and accountability in open societies.
Bryce Hidysmith is a researcher at The Median Group, formed in early 2018 and dedicated to research on global catastrophic risks. Bryce was previously a designer and strategist for the hedge fund Numerai, and writes essays at hidysmith.com. He is currently serving as a strategic consultant for the Center for Humane Technology.
Brad Templeton holds the Chair for Computing at Singularity University. Brad is also a developer of and commentator on self-driving cars, software architect, board member of the Electronic Frontier Foundation, Foresight Institute, internet entrepreneur, futurist lecturer, writer and observer of cyberspace issues. Brad lectures and blogs about the emerging technology of automated transportation.
Before founding Openwater, Dr. Jepsen was an engineering executive at Facebook, Oculus, Google and Intel. She has founded four startups, including One Laptop per Child. She has been a professor at both MITs: MIT in Cambridge, Mass., and the Royal Melbourne Institute of Technology in Australia. She has been recognized with many awards including TIME magazine's "Time 100" as one of the 100 most influential people in the world, and as a CNN top 10 thinker.
Zarinah is a neuroscientist turned activist, who focuses on researching and advancing communities, and new models of governance. She is the president of the Social Observatory, a controlled environment offering infrastructure, tools and services to study human social dynamics.
Dr. Randal Koene is a neuroscientist whose professional efforts have focused on neural interfaces, neural prosthesis, and the functional reconstruction of neural tissue. Koene introduced the multi-disciplinary field of whole brain emulation and is lead architect of the scientific roadmap with which its technological development is promoted. 
Daniel is the current VP of Platform Product at Planet Labs. His various interests fundamentally revolve around perceiving, naming, and harnessing nearly-invisible forces around us. A computer scientist and software engineer at heart, he previously spent many years at Google helping build several prominent projects including Google Earth, Latitude, and machine learning research.
Dr. Aubrey de Grey is a biomedical gerontologist and the Chief Science Officer of SENS Research Foundation, a biomedical research charity that performs and funds laboratory research dedicated to combating the aging process. He is also Editor-in-Chief of Rejuvenation Research, the world's highest-impact peer-reviewed journal focused on intervention in aging.
Sonia Arrison is a best-selling author, analyst, entrepreneur, and investor. She is the founder of 100 Plus Capital, co-founder of Unsugarcoat Media, and associate founder and advisor to Singularity University in Mountain View, California. Her research focuses on exponentially growing technologies and their impact on society. 
CTO & Co Founder of Vium, Joe is a scientist and entrepreneur known for his discoveries in biophysics and for creating the world's smallest personal computer. His experience spans from biotech research to electronics design. Very experienced in invention, prosecution and monetization of intellectual property, he has over 80 Patents granted and pending in fields ranging from biophysics and safety systems to antennas, thermal systems, user interfaces and analog electronics.
Dr. Joon Yun is President and Managing Partner of Palo Alto Investors, a hedge fund with $2.4 billion in assets under management and invested in healthcare. Joon and his wife Kimberly launched the $1 million Palo Alto Longevity Prize in 2013 to reverse the aging process and recently donated $2 million to launch the National Academy of Medicine Aging and Longevity Grand Challenge. 
Steve is a researcher in the interdisciplinary space of chemistry and computer science. He pioneered the use of computers to curate patents and scientific literature in medicine and the physical sciences. He has worked in synthesis at Novartis, in data science at IBM Research, and currently as a scientific advisor at Google.

Bio & Nanotechnology Track
Jane's research on the molecular scale at IBM Research, the University of Basel, and numerous start-ups has involved atomic force measurements, 3D nanoprinting, Vitamin D, DNA origami, conducting polymers and more. She is an editor, reviewer, advisor, collaborator, consultant, and board member @ NSF, ACS, universities, and companies in the US and abroad.
Eri is a Research Director at the Institute for the Future, a futures research center dedicated to positive global transformation, and co-founder/chairwoman of BioCurious, the world's first hackerspace for biology. She helps leaders understanding emerging change across society, the workplace, and the world.
Jun is Scientific Director & Partner at IndieBio. Jun holds a Ph.D. in chemical biology from The Scripps Research Institute. She has worked at several startups in the fields of immuno-oncology, protein engineering, lab automation robotics, CRISPR, and precision medicine. Jun is passionate about using the intersection of biology, technology, and design to increasing human healthspan.
Named one of CNN's Top 7 Tech Heroes to Watch in 2015, Kathryn Myronuk is an expert on accelerating technologies and how they empower teams to create world-changing ideas. She is founding team member, staff, and faculty at Singularity University.
Mark S. Miller is a pioneer of Agoric (market-based secure distributed) computing and smart contracts, the main designer of the E and Dr. SES distributed persistent object-capability programming languages, inventor of Miller Columns, an architect of the Xanadu hypertext publishing system, a representative to the EcmaScript committee, a former Google research scientist and member of the WebAssembly (Wasm) group, and a senior fellow of the Foresight Institute.
Sonya runs marketing and communications at the Zcash Foundation, a financial privacy non-profit. She is a former technology journalist and is passionate about free expression.
Nathana is a writer and speaker at the intersection of the impact of emerging technologies such as blockchain, artificial intelligence, and the future of law and governance. Nathana has advised technology startups on product, privacy, and contracts matters as an attorney at Gunderson Dettmer, and is a JD/MBA graduate of the Yale Law School and the Yale School of Management.
Alex is Chief Strategy Officer at Human Rights Foundation. He served as Vice President of Strategy for the Oslo Freedom Forum since 2009. Alex's views on human rights and tech have appeared in ABC, The Atlantic, BBC News, CNN, Fast Company, Foreign Policy, The Guardian, NPR, TIME, The Wall Street Journal and WIRED. He serves as guest lecturer at Singularity University on governance and technology.
Will is the co-founder and CEO of Planet Labs, where he leads the overall strategy for commercializing new geospatial data and analytics that are disrupting agriculture, mapping, energy, the environment, and other vertical markets. Prior to Planet, he was a Scientist at NASA/USRA where he worked on missions "LADEE" and "LCROSS," served as co-principal investigator on PhoneSat, and was the technical lead on research projects in space debris remediation.
Jessy Kate Schingler is a space geek turned computer scientist designing human settlements on a planet called Earth (but not only). She is interested in the design of systems that manifest our environment and social structures as iterative learning platforms for experimentation and innovation, with citizens as creators and participatory scientists.
Anders Sandberg is a senior research fellow at the Future of Humanity Institute at the Oxford Martin School at Oxford University. His research centres on management of low-probability high-impact risks, estimating the capabilities of future technologies, and very long-range futures. He has a background in computational neuroscience, transhumanism, and future studies.
Chris is the co-founder and CEO of a stealth space company in San Francisco. He also serves as a board member or adviser to Planet Labs, Scalr, and Ripcord. Previously, Chris was the Chief Technology Officer of NASA, where he introduced new technologies into America's space program and founded OpenStack, the largest and fastest growing open source project in history.
Allison Duettmann is a researcher and program coordinator at Foresight Institute. Her research focuses on the reduction of existential risks, especially from AI. At Existentialhope.com, she keeps a progress tracker of the most promising work toward positive futures. She speaks and moderates on existential risks and existential hope, AI safety, cybersecurity, longevity, blockchains, ethics in technology, and more. Allison holds an MS from the London School of Economics, where she developed a moral framework for AGI that relies on NLP. 
At Foresight, Lou builds a multidisciplinary community of scientists and technologists advancing technologies of fundamental importance for the future of life and the biosphere. Lou also hosts Socratic style discussions at The Embassy Network, an intentional co-living space, and researches sustainable, global and collaborative governance models and economic systems for the future society to come.
Registration
Vision Weekend is Foresight's annual members-only gathering. Our members are the visionaries that allow us to steer the future toward positive outcomes. Please see your membership benefits below. We are grateful for your support and cannot wait to plot grand futures together!
If you'd like to become a member or renew your membership, you can do so when purchasing a ticket for Vision Weekend.
If you prefer to donate using major cryptocurrencies like Bitcoin, Ethereum, LiteCoin, or ZCash, you can do so here.
If you prefer to attend one day only, please email [email protected] to make special arrangements.