2019 Vision Weekend
UNDER THE RADAR: CONTEXT CONTROVERSIES, COOPERATION | NOV 2-3 | SAN FRANCISCO
UNDER THE RADAR: CONTEXT | CONTROVERSIES | COOPERATION
Your interactive participation is needed–now more than ever—to direct our attention to crucial ideas now flying under the radar.
Join like minds on Saturday to discuss ideas and on Sunday to brainstorm and flesh out prototype solutions.
Saturday will be filmed, Sunday is off-the-record to enable frank discussion.
B I G  Q U E S T I O N S
Space is back! Which moonshots should we aim for now? | How can we settle the Moon to live better on Earth? | Can we make human death optional soon? | Meatspace vs Cyberspace: How can we get the best of both? | What's the Quantum Biology Loophole and what can we do with it? | Which technology switches must we pull to stop the climate bomb? | How can humanity become a net-positive to its ecosystem? | How can investors speed up deep innovation, not just more apps? | What's worth adopting from bizarre legal systems? | What new economic, governance, legal, and social systems for the future? | What applications are possible with an Internet of Blockchains? | How can we lock the web open? | What are Incomplete Contracts and can they make AI work better for humans? | Geopolitics, superintelligence, human manipulation: How to prioritize in AI risk? | Can we aggregate truths from groups to get better at X-risk prevention? | What are new ways to think about nano/bio/cyber risk? | Given any pressing problem—how can we speed-learn everything we need to know? Let's try it!

C O L L A B O R A T I O N
We invite goal aligned organizations to hold office hours dedicated to answering your questions and connecting with you 
All of you should really be "on stage" so we reserve one room for ongoing lightning talks. Sign up or show up!
We'll reserve the Mezzanine for impromptu breakout sessions, so come prepared for spontaneous ideation
We'll collaborate on a shared spreadsheet to get to know fellow participants, seek collaborators, and join projects
We'll make sure to allow plenty of time for you to enjoy our beautiful setting, connect with old friends, and make new ones 
S P E A K E R  &  P A T R O N  G A T H E R I N G
Consider upgrading your involvement with a
Patron ticket
to join Saturday night's Speaker & Patron Gathering. In addition to access to our main event, on Saturday night, we invite our Foresight patrons, plenary speakers, and representatives of advising organizations for a private gathering in a stunning private home in Alamo Square for a delicious dinner, music, art, and collaboration. We're all working on a small part of the larger mission of striving for a positive future, enabled by technology. Let's have a frank discussion about common challenges and what we can do as a community to help each other. The gathering was a wild success last year and is not to be missed – spots are strictly limited according to seat count this year, so consider securing your spot early if you'd like to join.
Invited thinkers provide context on their alternative take on approaching humanity's greatest challenges. If you could focus your energy, time, and effort on one thing, what would it be? Each talk is opened up for discussion. Why is or isn't this idea worth throwing our heart at? Your participation is needed: Join the Q&A panel on stage, submit anonymous comments via index cards, or make your voice heard from the audience.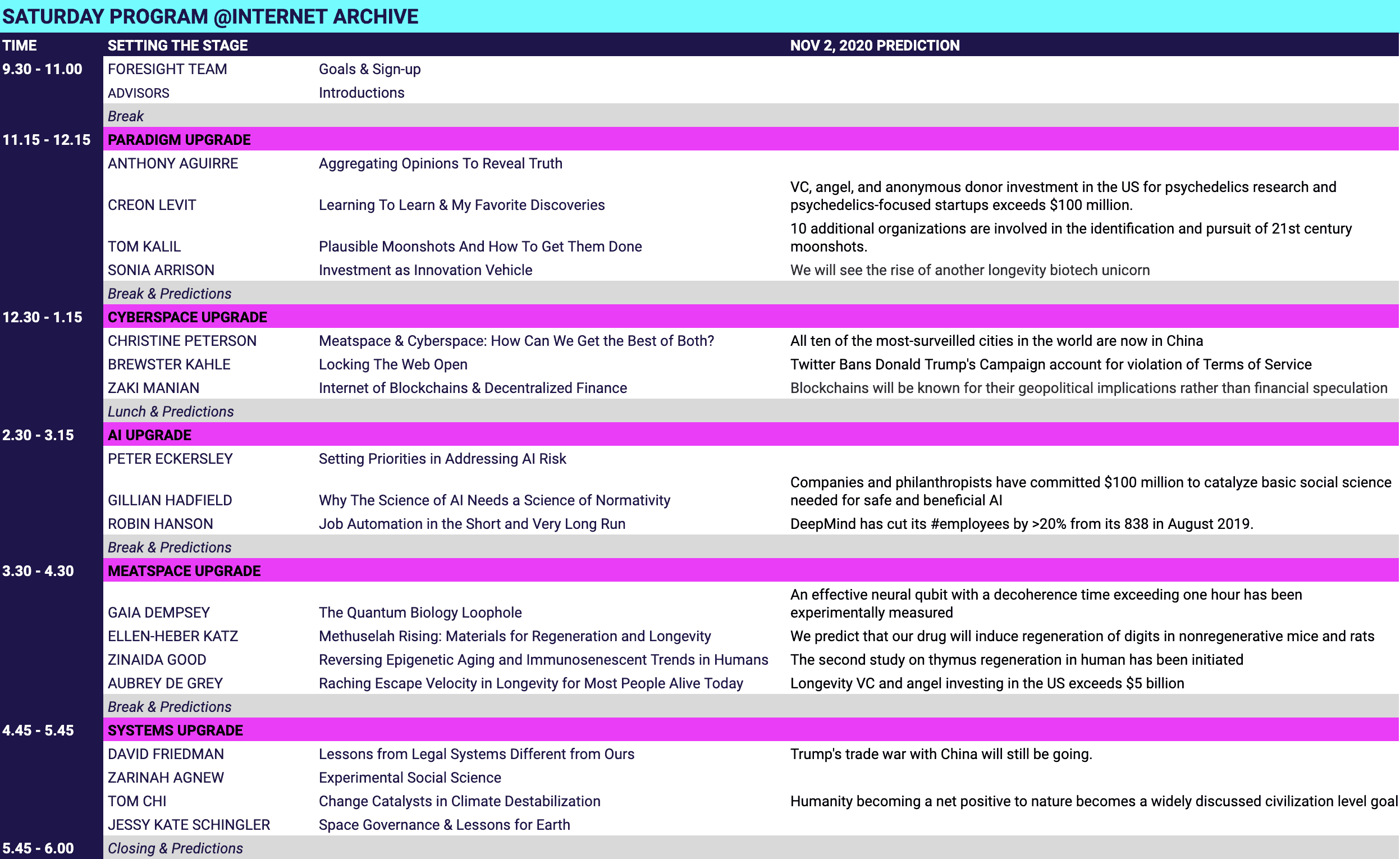 The choice is yours: follow your favorite speaker into one of the many parallel sessions to explore Saturday's ideas in-depth or make your way to the lightning talk room where other participants put their ideas onto our radar. This room is free-style, you have 10 minutes to direct participants' attention to the thing everyone is missing. Registered participants can sign up here to hold a lightning talk. Alternatively, start your own impromptu breakout session or join an office hour by your favorite organization – they're there to help you make your idea reality. See below for a list of organizations we have onboard.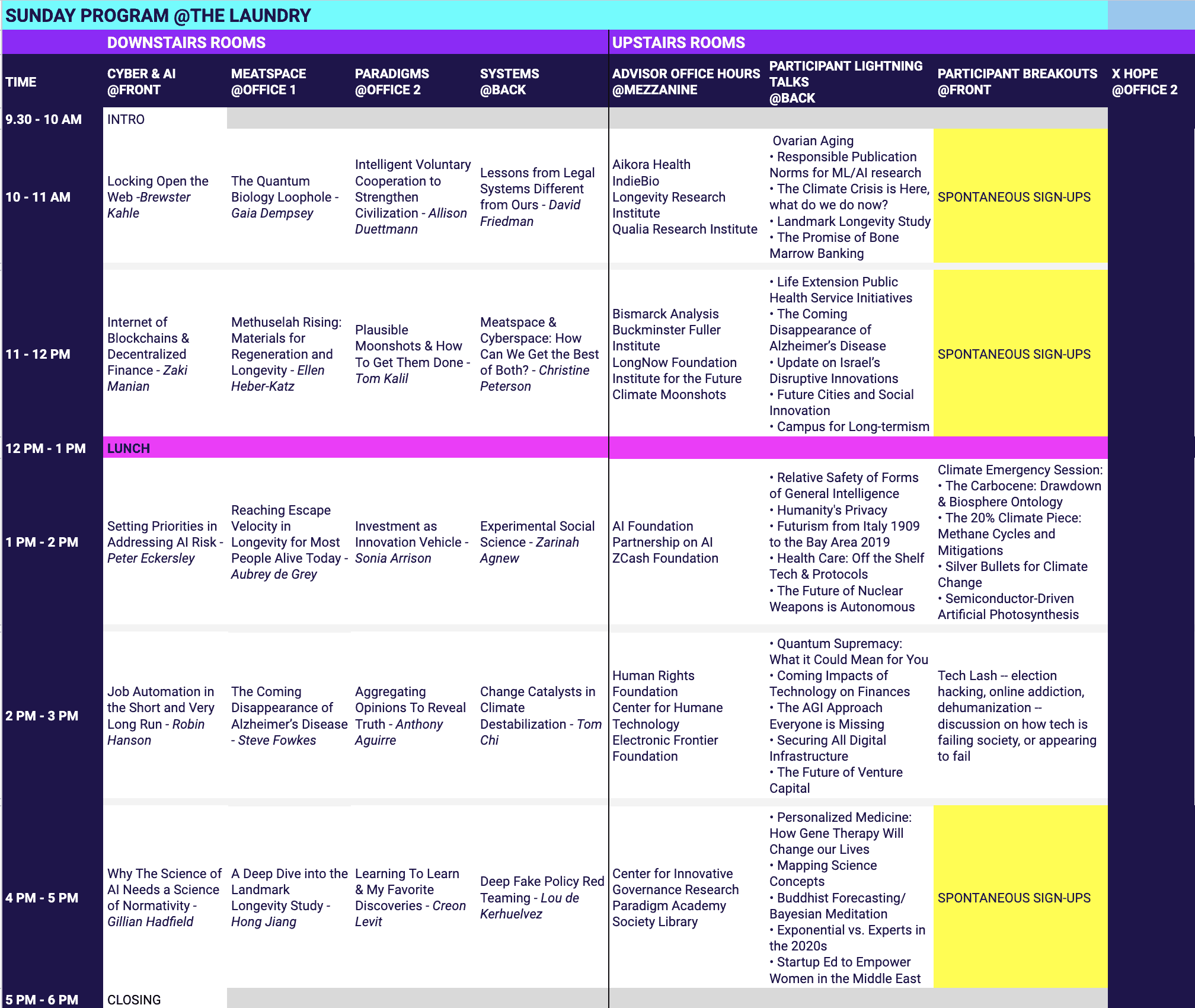 AUBREY DE GREY, Anti-Aging Strategist
| Reaching Escape Velocity in Longevity for Most People Alive Today |
Dr. Aubrey de Grey is a biomedical gerontologist and the Chief Science Officer of SENS Research Foundation, a biomedical research charity that performs and funds laboratory research dedicated to combating the aging process. He is also Editor-in-Chief of Rejuvenation Research, the world's highest-impact peer-reviewed journal focused on intervention in aging.
TOM CHI, Inventor
| Change Catalysts in Climate Destabilization |
Tom Chi co-founded Google X and practices a unique approach to rapid prototyping, visioning, and leadership to jumpstart innovative new ideas. He advocates for using transformative technology to engineer a net-positive relationship between humanity and the environment.
PETER ECKERSLEY, Tech Policymaker
| Setting Priorities in Addressing AI Risk |
Peter leads the Partnership's research practice on topics associated with PAI's mission, including on best practices for the ethics, safety, fairness, inclusiveness, trust, and robustness for AI research, applications, and services. Prior to joining PAI, Peter was Chief Computer Scientist for the Electronic Frontier Foundation.
CREON LEVIT, Mad Social Scientist
| Learning To Learn & My Favorite Discoveries |
Creon Levit worked for 32 years at NASA Ames Research Center in Silicon Valley and is now the Director of Research at Planet Labs where they build, launch, and operate the world's largest constellation of satellites to make change on Earth visible and actionable.
GAIA DEMPSEY, Next Frontier Entrepreneur
| The Quantum Biology Loophole | 
Gaia Dempsey is an entrepreneur and pioneer in the field of augmented reality (AR) – she was a cofounder and former managing director at DAQRI. Gaia is the founder and CEO of 7th Future, a consultancy that partners with tech leaders and communities to build global-impact innovation models, with a commitment to openness, integrity, resilience, and long-term thinking.
ZARINAH AGNEW, Rogue Scientist
| Experimental Social Science |
Zarinah is a neuroscientist by day whose academic research focuses on the neural control of the most dextrous human effectors, the hands and the articulatory system. Community builder by all other hours, their theory of change focuses on the commons, experimenting with governance and prefigurative politics. Academic science takes place at UCSF, science in the wild through Irrational Labs, rogue science, all day every day.
ANTHONY AGUIRRE, Theoretical Cosmologist
| Aggregating Opinions in a Way That Reveals Truth |
Anthony Aguirre is a professor of physics at the University of California, Santa Cruz, and studies the formation, nature, and evolution of the universe. He is a creator of the science and technology prediction platform Metaculus.com, and is founder (with Max Tegmark) of the Foundational Questions Institute, and The Future of Life Institute. 
SONIA ARRISON, Longevity Author & Investor
| Investment as Innovation Vehicle |
Sonia Arrison is a best-selling author, analyst, entrepreneur, and investor. She is the founder of 100 Plus Capital, co-founder of Unsugarcoat Media, and associate founder and advisor to Singularity University in Mountain View, California. Her research focuses on exponentially growing technologies and their impact on society. 
CHRISTINE PETERSON, Forecaster
| Crowd-sourced Futurism and Action |
Christine Peterson writes, lectures, and briefs the media on coming powerful technologies, especially nanotechnology and life extension. She is Co-Founder and Past President of Foresight. She serves on the Advisory Board of the Machine Intelligence Research Institute, and has served on California's Blue Ribbon Task Force on Nanotechnology and the Editorial Advisory Board of NASA's Nanotech Briefs.
DAVID FRIEDMAN, Anarchocapitalist-Anachronist-Economist
| Lessons from Legal Systems Very Different from Ours |
David D. Friedman is a leading proponent of anarcho-capitalism. While Friedman holds a Ph.D. in physics from the University of Chicago, he is chiefly known for his scholarly contributions to economics and law. In Law's Order: What Economics Has to Do with Law and Why It Matters, he shows how directing the law to seek economic efficiency can lead to the achievement of justice.
TOM KALIL, Innovation Policy Expert
| Plausible Moonshots And How To Get Them Done |
Tom Kalil is Chief Innovation Officer at Schmidt Futures. In this role, Tom leads initiatives to harness technology for societal challenges, improve science policy, and identify and pursue 21st century moonshots. Prior to Schmidt Futures, Tom served in the White House for two Presidents (Obama and Clinton), helping to design and launch national science and technology initiatives in areas such as nanotechnology, the BRAIN initiative, data science, materials by design, robotics, commercial space, and more.
ROBIN HANSON, Idea Futures Maven
| Books I'd Like to Write |
Robin Hanson is associate professor of economics at George Mason University and research associate at the Future of Humanity Institute of Oxford University. Oxford University Press published his books The Age of Em, and The Elephant in the Brain: Hidden Motives in Everyday Life. His blog OvercomingBias.com has had eight million visits. He has pioneered prediction markets since 1988 and suggests "futarchy", a form of governance based on prediction markets. 
BREWSTER KAHLE, Internet Archivist
| Decentralizing The Web To Get The Web We Want |
A passionate advocate for public Internet access and a successful entrepreneur, Brewster Kahle has spent his career intent on a singular focus: providing Universal Access to All Knowledge. He is the founder and Digital Librarian of the Internet Archive, one of the largest libraries in the world. In 2012 he was inducted into the Internet Hall of Fame.
JESSY KATE SCHINGLER, Moon Settlement Engineer
| Space Governance & Lessons for Earth |
Jessy Kate is the Director of Policy and Governance of Open Lunar, a charity committed to enabling a self-sustaining settlement on the Moon within 10 years for the benefit of all humanity. Jessy Kate engineers the development of tech, policies and consultative structures to settle the Moon in a peaceful, collaborative way — to expand humanity's horizons, prepare for x-risks, and learn to live better on Earth.
GILIAN HADFIELD, Innovative Law Professor
| Why The Science of AI Needs a Science of Normativity |
Gillian Hadfield is a leading proponent of the redesign of legal systems for a rapidly changing world facing tremendous challenge from globalization and technology. Gillian is the author of Rules for a Flat World and a professor of law and strategic management at the University of Toronto; a faculty affiliate at the Vector Institute for AI; and a senior policy advisor at OpenAI.
ZAKI MANIAN, Cryptography Specter
| Internet of Blockchains & Decentralized Finance |
Zaki Manian, Executive Director of Trusted IoT Alliance, is a prolific contributor to the development of blockchain and cryptocurrency technology. Zaki has deep expertise in cryptography and distributed consensus system. He is also an advisor to the Cosmos project, and several other investment funds and startup in the space.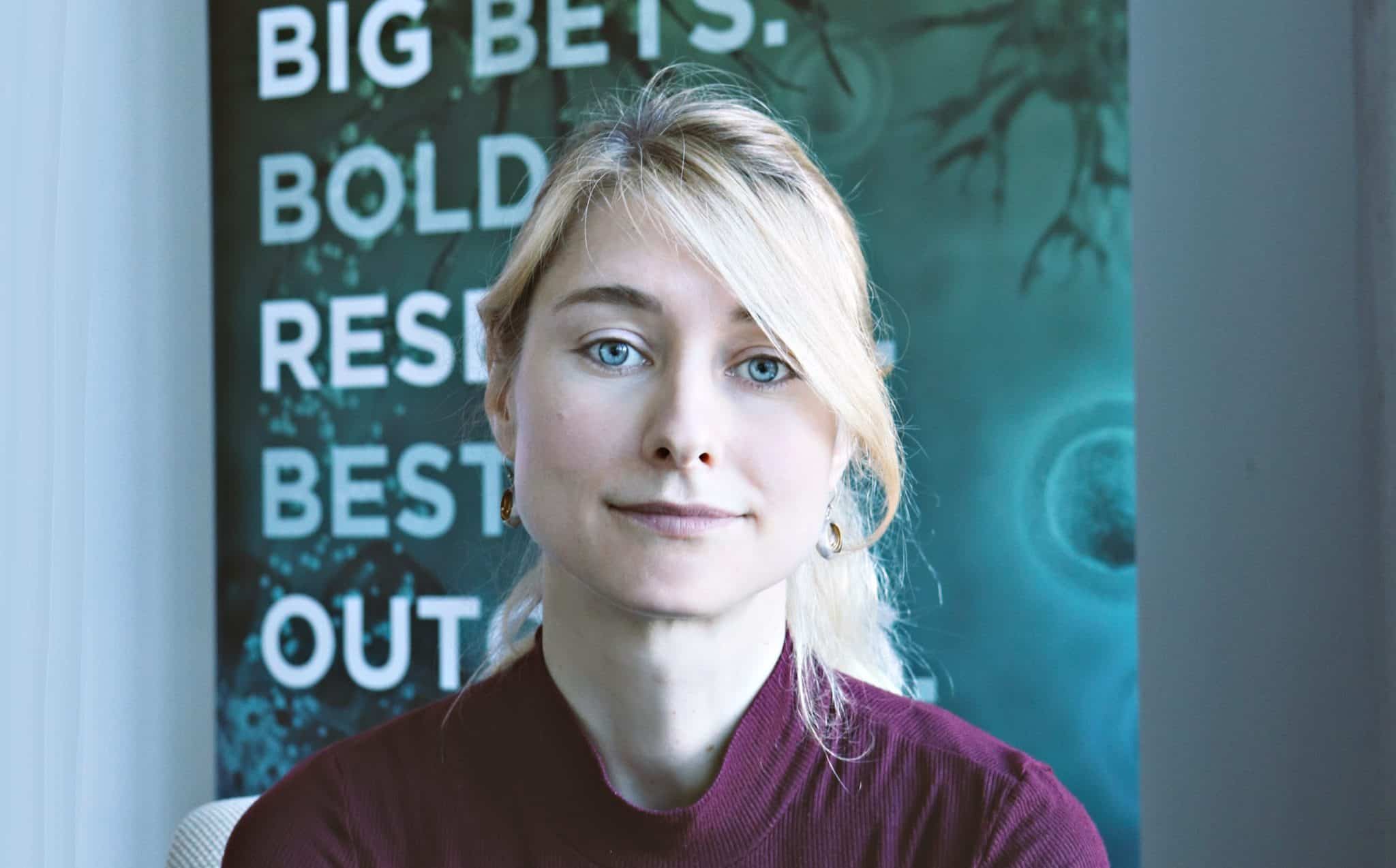 ZINAIDA GOOD, Computational Immunology Scholar
| Reversing Epigenetic Aging and Immunosenescent Trends in Humans |
Zinaida Good, PhD is specializing in computational immunology, cancer immunotherapy, and lymphocyte development. At Stanford, she is working to define features of successful CAR T cells in patients, and to understand CAR T effects on the tumor microenvironment. Her long-term interest is in the systems-level events required for a coordinated immune attack against cancer.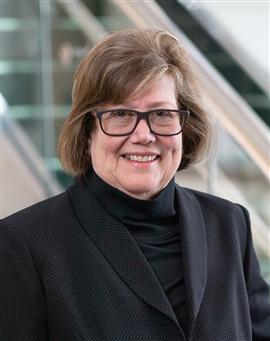 ELLEN HEBER KATZ, Regeneration Biologist
| Materials for Regeneration and Longevity |
Dr. Heber-Katz is an internationally renowned immunologist who investigates mammalian regeneration, having discovered the unusual ability of the MRL mouse strain (used in autoimmunity research) to regenerate wounds without scarring and to fully restore damaged tissues. Her work on regeneration has been extended into National Cancer Institute-funded studies of novel aspects of breast cancer causation.
ALLISON DUETTMANN
Allison Duettmann is a researcher and program coordinator at Foresight Institute. Her research focuses on the reduction of existential risks, especially from AI. Prior speaking engagements include Wall Street Journal, SXSW, The O'Reilly AI Conference, The World Economic Forum, Effective Altruism Global. At Existentialhope.com, she keeps a progress tracker of the most promising work toward positive futures. Allison holds an MS from the London School of Economics, where she focused on ethics for AGI. 
LOU DE KERHUELVEZ
Lou is the Director of Development at Foresight Institute. There, Lou grows a community dedicated to reflecting on the perils and promises of technologies of fundamental importance for life and the biosphere, focusing in particular on artificial intelligence, biotechnology and cybersecurity. Lou's research focuses on social technology: alternative governance, justice and economic systems for a more collaborative, sustainable, and global future society.